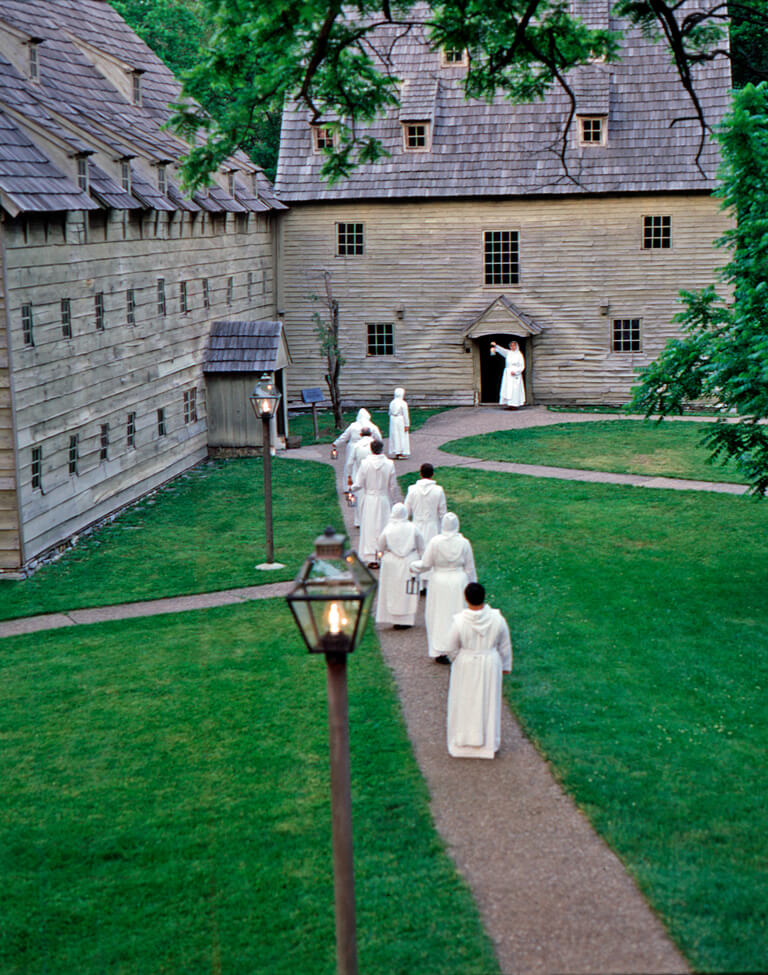 Visitors to Ephrata in the 1700s found a unique monastic settlement they labeled a Cloister.  Conrad Beissel, Ephrata's founder, came to the site in 1732 seeking to live as a hermit following his own religious ideas.  He believed earthly life should be spent preparing to achieve a spiritual union with God at the Second Coming he felt would soon occur.
By the early 1750s, nearly 80 celibate Brothers and Sisters were housed in impressive Germanic log, stone, and half-timbered buildings.  At the same time, nearly 200 family members known as Householders, occupied nearby homes and farms. 
Celibate members followed a life of work balanced with hours of private prayer.   Wearing white robes, they adopted sparse diets, and slept little, all in an effort to provide discipline as they prepared for an anticipated heavenly existence.  Labors included farming, papermaking, carpentry, milling, and textile production. 
Ephrata became known for:
the German calligraphic art of Frakturschriften, created in a distinctive style considered the first of this folk art produced in America
self-composed a cappella music written using Beissel's rules for four-part harmony, with over one-thousand original compositions
an ambitious printing establishment creating works for the use of the community and neighbors, including the translation and publication of the 1500 page Martyrs Mirror for the Mennonites, the largest book printed in colonial America
During the American Revolution, Ephrata served as a hospital for nearly 260 American soldiers, some of whom rest in the Mount Zion cemetery overlooking the historic grounds.
The Society declined after the death of the charismatic Beissel in 1768.  The last celibate member died in 1813 and the next year the remaining Householders incorporated into the German Seventh Day Baptist Church.  Members continued to live and worship in the Cloister buildings until the close of the Church in 1934.
In 1941 the Pennsylvania Historical and Museum Commission assumed administration and began a program of research, restoration, and interpretation of this important historic site with the support of the Ephrata Cloister Associates.
Click here to watch a short 15 minute introductory video about the Ephrata Cloister.