Today's Chorus, under the direction of Mark Herr, is a dedicated group of volunteers which bring to life the music of the Ephrata Cloister as a special educational program of the Ephrata Cloister Associates. Wearing white robes patterned after those worn by the Brothers and Sisters of Ephrata in the mid-eighteenth century, the modern Chorus performs at the historic site and throughout the region. In addition to work from Ephrata's past, the group performs compositions from other early American communities including works from the Shakers, the Moravians, the Harmonists, the Kelpius Community, the First New England School, and African American spirituals. The Ephrata Cloister Chorus performs on-site and off-site in sacred spaces, concert halls, museums and historic sites. Please contact the Concert Coordinator Sheree Wolf at shereewytewolf@yahoo.com to arrange a performance for your organization.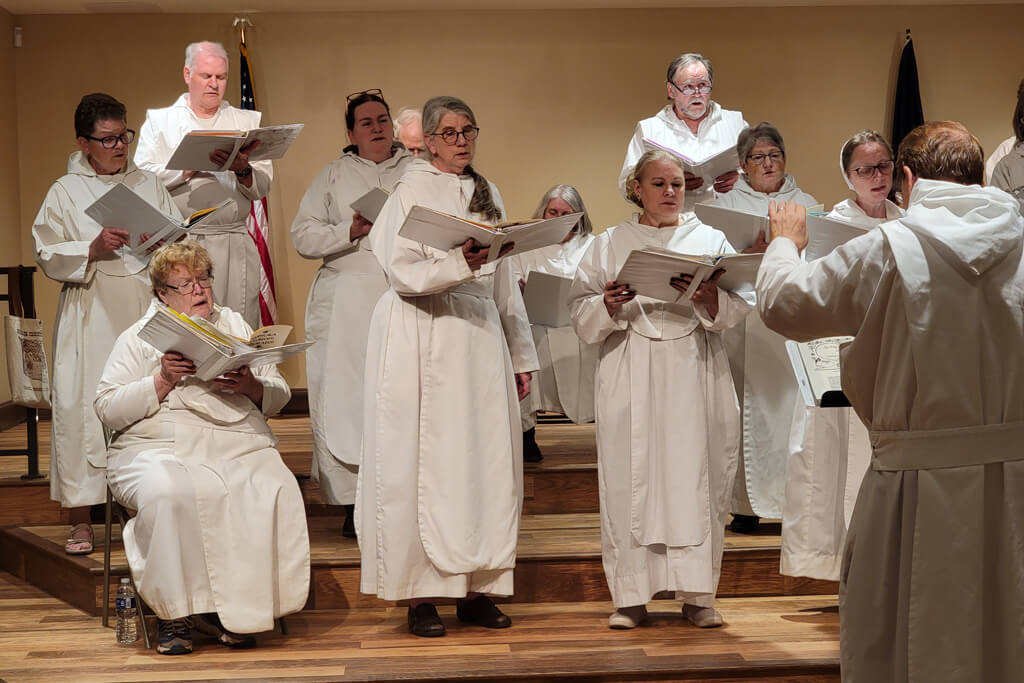 Recordings of the Ephrata Cloister Chorus are available at The Museum Store. Click here for samples of music
Call for new members
Chorus members are required to attend weekly rehearsals at the Historic Ephrata Cloister's Visitors' Center from September to December and again from January through May. New Chorus members are welcome at any time provided they attend three Tuesday evening rehearsals and complete an audition process. After being accepted into the Chorus a new member will be provided with three items: a white garb, a white cloth-covered binder, and sheet music. The Chorus member is required to keep the garb clean and in good repair and wear it during scheduled performances during the spring and fall. For more information about joining our volunteer Chorus, contact Sheree Wolf, Concert Coordinator at shereewytewolf@yahoo.com.