Date(s): 10/23/2022
Time: 2:00 PM - 3:00 PM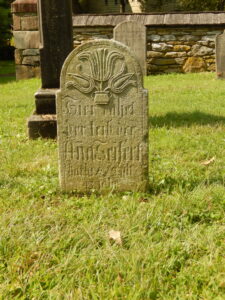 God's Acre Cemetery at the Ephrata Cloister contains the final resting places of many of the people who created the first Ephrata community along with subsequent generations who influenced Ephrata's development. Discover their stories and surprises that might captivate you but not frighten you.  (Note: these tours require the ability to walk over the uneven ground in the Cemetery. Space is limited.)
Cemetery Tours Require a General Admission Ticket. General Admission (paid on arrival) includes guided tours of the historic Sisters' House (Saron) and Saal (Meetinghouse) at 12:30, 1:30, 2:30 and 3:30. These tours last approximately one hour.
General Admission   $10.00 for adults
                                        $9 for seniors age 65+
                                        $6 for children age 3-11
                                        Free for children age 2 and below
                                        Free for ECA Members
Cemetery Tours Require a General Admission Ticket (paid on arrival) PLUS a timed Cemetery Tour ticket. Cemetery Tours are limited in attendance. To ensure participation in a Cemetery Tour, please purchase a timed ticket in advance. Tours begin promptly and we cannot guarantee availability at other times. ECA Membership, Library Passes, Heritage Society, and other discounts do not apply to Cemetery Tours tickets. Pre-purchased tickets are non-refundable.
Pre-purchase Cemetery Tour Tickets using this link: https://bit.ly/3SvNGX8 and follow these steps:
select date of visit, Sunday, October 23 or Sunday, October 30
select appropriate General Admission(s)
continue to scroll down to select time for a Cemetery Tour ticket(s),
2:00, 2:20, 2:40, 3:00, 3:20. Each person needs an individual ticket.