Date(s): 08/07/2022
Time: 1:00 PM - 4:00 PM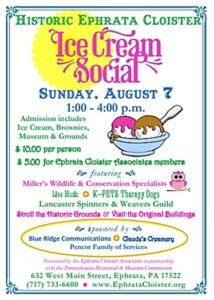 It's Time for Ice Cream!
     Can you imagine anything that would taste better right now than a dish of ice cream? Maybe ice cream and a brownie! These hot summer days are just begging for something cold and creamy, and we have it! You're invited to join us for the Ephrata Cloister Ice Cream Social on Sunday afternoon, August 7, from 1 p.m. to 4 p.m.  Please mark your calendar and plan to stop by for ice cream and brownie sundaes with all the toppings. We'll have live music,  Stu Huggens, the  local award-winning singer/songwriter, will perform an acoustic set of country and bluegrass from 1:00 to 3:00. Also enjoy a visit from K-PETS therapy dogs, demonstrations by our favorite Spinners and Weavers  including Bill Leinbach, the Itinerant Weaver, and special discounts in the Museum Store.  In addition, we'll feature Patrick Miller, Wildlife and Conservation Specialist, as he introduces us to the critters that live here in Pennsylvania and in our own backyards. Visitors will likely have the chance to meet a  Red-tailed hawk, Eastern Screech owl, Great Horned owl, Red Ratsnake, and some assorted insects. We're excited to see what furry, feathery, and scaly friends he will bring to the Cloister grounds. The buildings will be open for exploration, too.
     Tickets for ice cream and access to the grounds are $10 a person, but for members of the ECA, the cost is only $5 for ice cream.  For our members, access to the beautiful Cloister property is always free.
See you under the tent on Sunday, August 7!