Date(s): 06/09/2022
Time: 7:00 PM - 8:30 PM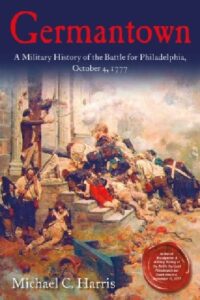 The Revolutionary War Battle of Germantown represented George Washington's attempt to recapture Philadelphia from occupying British forces.  Unfortunately, the fierce fighting ended in a loss for the Americans.  Learn more about this important event by joining award-winning author Michael C. Harris on Thursday evening, June 9 at 7:00 p.m. for the next Virtual Ephrata Academy. Harris will discuss his impressive book Germantown: A Military History of the Battle for the Control of Philadelphia, October 4, 1777.  The work of Harris goes far to bring this pivotal but often overlooked episode of the Revolutionary War to light.
The free program is offered as part of The Virtual Ephrata Academy presented on Zoom. Advance registration is required and can be HERE. 
Michael C. Harris is a graduate of the University of Mary Washington and the America Military University. He has worked for the National Park Service in Fredericksburg, Virginia, Fort Mott State Park in New Jersey, and the Pennsylvania Historical and Museum Commission at Brandywine Battlefield. He currently teaches secondary education in the Philadelphia region.